Well, here we are, 36 and a half weeks, nearly full-term, and nearly time to meet! It's so crazy, I never thought I'd get here, and at the moment I'm constantly juggling between wanting it to come faster, and wanting it to slow down (usually I want it to happen faster when I'm sore and feel huge, and usually want it to slow down when I look at everything that still needs to be done!) Overall though I'm still filled with much excitement at what's to come in the next few weeks, it's a constant waiting game, but it's going to be a wonderful finish.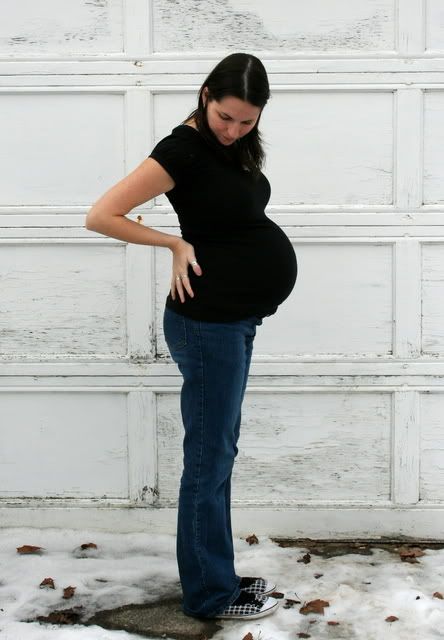 As for how I'm feeling, overall I still feel pretty good, my energy levels and appetite are about the same, no crazy mood swings or freak-outs, the only thing that I can really complain about is having a bit of difficulty sleeping/breathing at night, and just the overall feeling of being BIG. I'm up to 153lbs as of Thursday, so I'm nearing or have passed the 30lbs mark, which is about where I'm supposed to be, but still, I definitely notice the extra weight on my legs and joints (we're guessing that the baby is between 6 and 6.5 lbs, so still a few more ounces to go). My groin muscles are still sore from when I pulled them (not once but twice), so that makes moving even harder, but I try to get around as much as possible and not let it stop me. I'm still technically on bed rest, but my doctors have given me the
ok
to go out for short walks and to resume light activities, so for the past week or so I've been doing some housework and leaving the apartment with Dan, which has really helped me feel 'back to normal'. As I mentioned before, the doctors are looking at inducing me at 39 Weeks at this point, so I'm hoping that by doing these light activities it will kick things into gear before induction becomes necessary. If our plans go how we're thinking/wanting them to go, that means that the baby will be born in less than 2 weeks!
Most days I still take the time to feel my belly and to watch him tumble and roll, and I grab the little feet/arms/legs/elbows/hands when I can and imagine how they will look and feel 'in real life'. The occasional rib-kick aside, I think that I'm actually going to miss feeling these little movements inside. I'm sure that having him here in front of me will make up for it though :)
Well that's all, just wanted to share my current state, and like I said, if things go according to our plan, I might not be taking another Belly Shot, since he'll be here soon after 38 Weeks (I may take a 37.5 Week shot next weekend, depending on how busy we are.) I've really enjoyed doing these Belly shots, as crude and as simple as they are, it's been amazing to watch and see the progression, I will definitely do it again (hopefully in a more creative way) with my next baby. (I'll also be taking these shots and either making a little mini with my blog posts, or doing a
photobook
, I'm not sure yet.)
What have all you mums done with your Belly shots, if anything?
Happy Weekend, I'm off to watch New Moon (finally!)
G.