*Sorry this is late, I meant to auto-post it on Sunday, but I didn't get to finish it, as with many other things in life these days. So this is technically a "Sunday/Monday Scrappy Vault" post.
This 'series' is something I wanted to try out after recently going through my old layouts on
Flickr
and on my computer. There were so many that I hardly remembered, so I decided I wanted to come back to them to explore a bit the process of making the page itself, as well as what inspired it. This concept is also inspired by
Cathy
, who does it frequently on her blog. Not sure how many of these posts I'll be doing, but it's a nice Sunday blog filler :)
Here we go, my first dive into the Vault: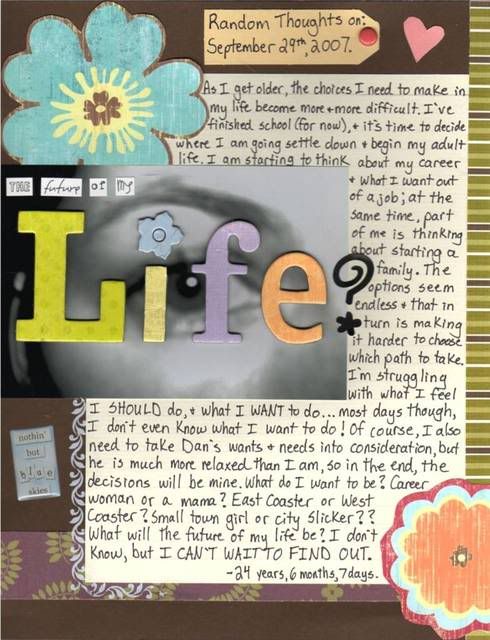 (sorry so blurry, as always!)
Title:
"The future of my life?"
Layout date:
September 2007
Supplies used:
Brown
cardstock
, Slab paper from Michael's, random flower paper (can't remember the brand),
Dollarama
sticker,
Stampin
' Up! tag, K&Co chipboard letters,
Dollarama
rub-
ons
,
Bökmark
word stickers, MM Letter sticker, brad.

Techniques used:
None, ha!

What I like about the layout:
The thing that caught my eye with this layout (get it, eye?
lol
) is the fact that I actually
JOURNALED
. Like, the page is mostly
journaling
; for me that's incredible. I remember going through a phase where I took a page from my journal, filled it, then stuck it in the middle of an 8.5X11 and basically embellished it (I have another one just like it from around this time too.) So that's pretty awesome, since I struggle so much with
journaling
these days. I also like the bold colours on the brown background, the cut-outs, and how I did the title over this blurry generic photo of my eye. The "Random thoughts on" is from Eternal Sunshine, a movie I was obsessed with at the time (and have been thinking about re-watching lately).

What I remember most about making this layout:
I remember being at that stage in my life where I still wasn't quite sure what I should be doing. I had been temping/working at
HPP
(where I am now) for about 9 months and at that point it was still pretty menial, non-stable work, so I didn't know if I should stay or move on, whether I should start trying to have a baby or not (this is about the time I went off BC for good after taking 2 randoms packs of the Pill over the summer), where we should live, all of it. Dan was just starting plumbing school, so I also remember that this was a time where I had lots of free time to scrap because he was in
Springhill
during the week, and we didn't have a lot of money (hence the cheap-o supplies). Overall, it was a time of uncertainty, and I'm glad that I documented those feelings (it shows me how far we've come!)
Well that's all for this round. Hopefully I'll be back every Sunday this month checking out my long-forgotten layout friends.
Back tomorrow with my December goals (holy, how did it get to be DECEMBER tomorrow already?!)
Loves,
G.