So, as I've mentioned before, Dan and I are planning on moving home to NB either about a month before the baby is born or shortly after (depending on what the doctors tell me), so this has caused a somewhat major issue when it comes to starting/decorating a nursery. I will either have very little time to get one ready, or worse yet, I won't have one for the first few months at all and will have to wait until we are more settled to get one ready. It all depends on where we live (we may be 'roughing' it for the first few months...more on that later though.) Because of all this, I'm quite unable to get started on any serious thinking about what we need for the baby and how to decorate his space, which is driving me nuts, being the [obsessive] planner that I am.

The other day while surfing around, however, I discovered a colour combo that I really loved, and decided immediately that it would be our little boy's room colours, whenever that happened to come to be. Behold:
Teal/bright blue, white, apple/pear green and chocolate brown. Oh yes. Boyish but not just blues, bright but not too bright, just perfect I think. Once this combination got into my head, I was able to begin thinking of a 'dream' nursery. My initial reaction was to have everything in white (even the floors if I could pull it off), then have bright accessories/furniture in the other 3 colours. Scandinavian or Ikea-ish. Something like this:
But then I started seeing different rooms full of colour on the wall and I fell equally in love with those, so now I'm on the fence as to what I want to do. Here are a few wonderful examples (I found all of these simply by googling 'nursery decor', so I'm sorry I don't have creds.)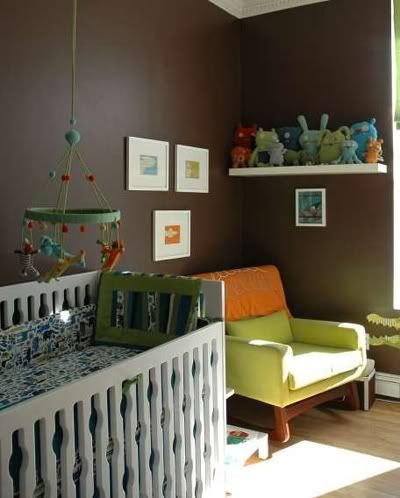 I think that the last brown one is my favourite, so gorgeous! So I suppose it's lucky that I have some time to decide on the colour of the room, since I'm still not sure and it will depend on many different things.
As far as the decor goes, I know that I want lots and lots of art, cute pillows, a comfortable chair/glider, floating shelves (or an Ikea Expedite-type shelf like above), a whimsical mobile, and lots of little vintage and handmade touches here and there, made by me :) I don't want it to be too cutesy or cartooney (none of that store bought, movie-based decor), but I'm thinking that if I had to choose a 'theme', it would be "woodland wonderland" (I absolsutely love all the little tree and fox and owl and deer decorations they have for kid's rooms these days!) Mainly I just want it to be functional, fun, and a place where I will want to spend lots of time ('cause let's face it, the boy won't care, if ever, what his room looks like, lol.)
Here are a few cute things I've had saved in my Favs on Etsy that would go well with the colour combo/concept I've picked out (check out my Favs-bottom left sidebar-for the shop credits):
(A little reminder for me and for him)
And a few random pictures I've found along the way (the wall collage is by
Rachel
, I had no idea that her little guy's room had the exact same colour combo!)
So that's that, we'll see how everything turns out, but this is my current dream and train of thought. I suppose I should focus more on the basics like getting a crib and furniture before I start worrying about the colour of the walls and what art to put up, but that's just not how my mind works I suppose. Now that I have my colours though, things will move along much better I think.
This weekend I'm planning on doing some shopping for a few things I've been needing/wanting for awhile (including some maternity pants! also some more baby stuff), finishing up a little bit of scrapping and doing lots of research for the Christmas projects/gifts I'd like to attempt this year. It SNOWED (!!) this morning and it really got me in the holiday mood (I'm listening to Christmas music as I type), so I hope that my motivation will stay this high all weekend.
Be back soon to share some scrappies (and hopefully some non-baby related thoughts! lol)
Happy Weekend!
G
xox