I love this picture of Shimi. I was out snapping some pics for my 18 Week Belly shot and caught her mid- swat at this leaf. As much as she annoys me sometimes, she is pretty darned cute (and spoiled!)
Well let's see, another week has gone by, how can that be?! I always have intentions of blogging more than once a week, but Heaven help me I can't seem to pull it off. I'm going to have to make another resolution to blog every day for a week again, that seemed to help me get into the groove some (and then I got pregnant and the groove was gone, ha) I'm already coming up with a list of things I want to do in November, so I think I'll add that goal to the bunch.
Anyway, my weekend was good, my mom and grandmother came up and we got to spend some time together, not doing too much. On Saturday it was gorgeous out so we went to Point Pleasant Park (the main park in Halifax) and walked around, it was nice, then that evening we started working on a long-overdue baby blanket, using my friend Heather's sewing machine (which has been gathering dust in my house since June!) It was a nice surprise to pull the machine out because with it Heather left a bunch of cool craft supplies, including some material and embroidery supplies. So I've been working on the blanket all week, I need to finish sewing all the rows together tonight so that I can bring it home to be ironed and sewn together...it's coming together really quickly and I'm quite pleased, it's gonna be cute!
(Some pics from the weekend)
This weekend promises to be quite fun too, I'm heading to Sussex to visit my family (sans the hubs, but that's ok I guess.) My sister and I are planning a shopping trip on Saturday, she needs a new wardrobe and so do I, and then I'll probably work on the blanket some more, visit my friend Sara, eat some yummy food, spend more time with my grand mama and just enjoy the extra days off. The weather's not looking superb, but I'll try to get out and snap some pics anyway.
Other than that, not much new has been going on. On the ole' preggo front, I'm finally starting to show a bit, and I succumbed to wearing my first maternity shirt on Tuesday. My co-worker was kind enough to send me her Bella Band, so once I run out of loose fitting pants to wear I'm sure I'll be using it more, and I have 2 pairs of Maternity pants in the sidelines, but I'm going to try and hold off on wearing them just yet since they are still a bit too baggy. I imagine in 2-3 weeks though I'll be wearing them. For some reason when I took my 18 Week shot I was looking super bigger than I actually am, but I 'm starting to think that maybe it's just in my head that I'm still small, maybe I am this pregnant in real life, who knows! It's fun though.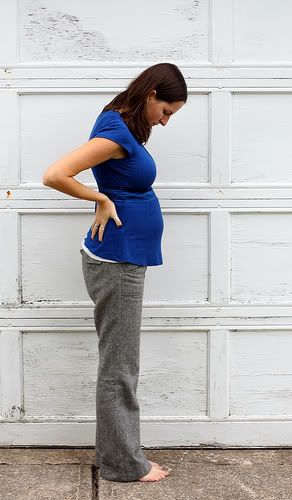 Right now the main excitement is waiting for the ultrasound in 2 weeks, when we get to find out the sex of the baby...my sister in law (who's due 1 week before me) jut found out that she is having ANOTHER boy (that's #3), so I'm foolishly hoping that it'll be a girl, but I know I shouldn't get my hopes up too high, and I'm sure I'll love the idea of a boy just as much as a girl, but still, it would be nice to have a Flynn grandaughter in the bunch (only 4 boys and one on the way as of yet.)
In the next couple of weeks I plan on doing some more research on cloth diapers,
Simple Moms
has a good series of articles on them, because I'd like to start purchasing some of them soon, maybe just 2-3 at a time over the next 5 months so that when the baby comes I'll have my full supply and I won't have to drop a lot of money all at once for them...then there's a carseat, crib, stroller to think about, oh my.
In non-baby news, I've started working on some secret crafty projects for friends that I'll hopefully be able to share soon, I'm quite excited to see how they turn out, because they include some things I've never made before :) I went to Michael's last night and bought some supplies, I haven't been there in forever so I browsed the scrap aisles a bit and it really got me in the mood to get scrapping again. I bought a super cute autumn paper pack (for the secret project) that I'll be using this weekend hopefully, but beyond that I want to get back into some of the things I've been putting off. As soon as I'm done sewing this blanket I think I'll get back into it. Emily's
52Qs
are almost done for the year and I only have less than half done, so I printed off the list and I thin that'll be my next project to tackle. Then there's AE's December Daily album, and finishing off my 365 album, and...and...
Quick randoms:
-Last night I got the song "Joy to the World" in my head and now I'm anxious for Christmas...what is wrong with me?! I haven't even gotten all my Halloween stuff out!

-Started watching some Simpsons' Treehouse of Horrors, and I download The Craft to watch (does anyone remember that movie?! So bad but so good...)

-It's been raining and cold here for a few days now, it's making it quite hard to get up in the morning. Poor Dan called in sick today, I just hope it's nothing too serious (and nothing I'll catch!)
-I took this self portrait earlier this week, and I realize that I really need to get back into this again too, I think I may make it another goal for November, to take at least 50% self portraits during the month. November's looking quite busy!
To all the Canadians, have a happy Thanksgiving this weekend, I'll be back to share pics and stories next week!
loves,
G.