Playing major catch-up, but I'm not letting it get too out of control! Anyway, here we go, Day 8 to 12. (Sorry for the blurry photos, my kit lens and I aren't friends at the moment and it's dark at 4pm, what can a girl do?)

The spreads:
The pages:
Day 8, really simple, I just journaled about the good news that I got at the doctor's that day (that we can most likely have a natural birth and not a c-section, my heart tests all came back positive with a less than 5% chance of complications, which is great news.) This journal is ending up being pretty baby-focused, but that's where my life is at right now, so if it ends up being that way, it's ok with me, especially if I'm not capturing the memories elsewhere.

Day 9, I wasn't sure what to do (nothing happened that day), so I decided to use an old photo of my sister and I and journal 9 things I remember from my childhood Christmases (many are duplicates of the memories I have in another mini, but oh well, they're better documented in this one.)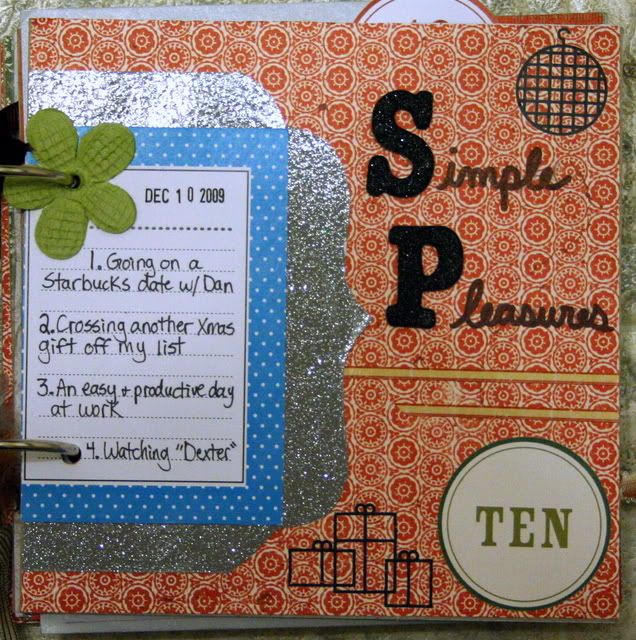 Day 10, pretty self-explanatory, trying to remember and appreciate the simple pleasures from this time of year (including a Starbucks Caramel Brulé latte, I'm addicted to these sugary things, I swear...included the cliched coffee sleeve of course.)
Day 11, another mostly journaling page with an old photo of me. Just talking about my general feelings for the season, which so far have been pretty low/uninvolved. It's just all happening TOO FAST, a sentiment I think many of us can agree on! For this page I used some Christmas rub-ones my mom gave me, they are so cute!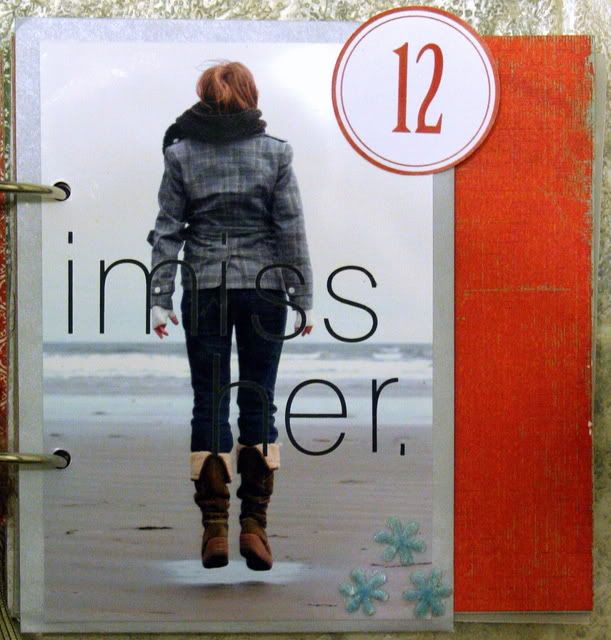 Day 12, another envelope page, and for some reason that day I was really missing Heather, so I decided to use a pic of her from our last shoot together and write a little letter saying why I missed her especially during this time of year. Here it is (it's mushy, be warned.) I really like how this one came out kind of graphic-looking with the rub-ons, it's a bit different than the rest of the vintage-ey look I got going on in the album, yet it still goes :)

Dear Hea-tha,
There are so many things that I miss doing with you now that you've moved out West, but during the holidays it's especially noticeable. My Christmas spirit has not been nearly as high this year and part of the reason is not having you here to do things with, like baking and crafting, shopping and watching movies, and all the other little outings/traditions that we've done together over the past 3 years.
I had a sudden pang the other night to go to Starbucks/Chapters to browse the Christmas items and drink yuppie coffees while chatting, but that was something we used to do, and without you it's just not the same.
I know that we'll see each other again and we will keep in touch for the rest of our lives, and for that I'm very grateful, but I must honestly say that I miss you my friend, but especially so at Christmastime.
Love,
Geneviève
Well that's it, still enjoying the process, even if I'm a little behind. It's not planned, but it's still happening, and that's the fun part :)
Until Days 13 to 17!
Loves,
G.