So, I didn't notice until I was editing the pics, but my 34.5 Weeks shots have the same colour outfit as my 31.5 Weeks shots! (They are different pieces of clothing but they just look the same.) My wardrobe lately has been seriously and tragically cut down to a few pieces that I can wear and still feel comfortable in. Being on bedrest has made it so that I don't have to have maternity work clothes anymore, and since I can't go out shopping for new clothes, most days I'm just in some form of sweatpant and large shirt or sweater, with little care as to whether they match or how they look. Sad but true. I can't wait to get back into normal clothes!
Anyway, I again neglected to keep up the 2 week schedule for these shots, so from now on I guess we're moving on to 3 weeks. I still don't notice myself getting bigger but I definitely am, it's really just hard to imagine, even at this point...the denial is very strong in me.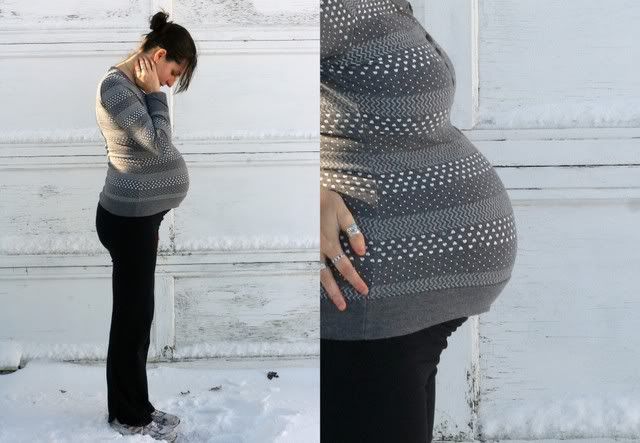 Five and a half weeks to go, bring it on!

Happy Saturday,
G.

PS-On Thursday night Dan and I went out to supper with Dan's mom (her last night with us) and as I was walking out of the restaurant with my coat unbuttoned-because I can't button it up anymore-I heard someone behind me say "how far along are you?" I didn't know who it was so I turned around and it was a girl about my age sitting at a table with probably 6 or 8 of her friends. I went over and told her I was 34 weeks and she looked at me and said "well you look fantastic!" I was so surprised, I didn't know what to say, so I said what I always say when someone compliments me on my prego appearance: "Thanks, I feel BIG." She then said "Oh no, well you look great!" I then thanked her again and left, but it truly made my day that a complete stranger would take the time to compliment me on my appearance, especially in this state. A little bit of kindness can go a long way.